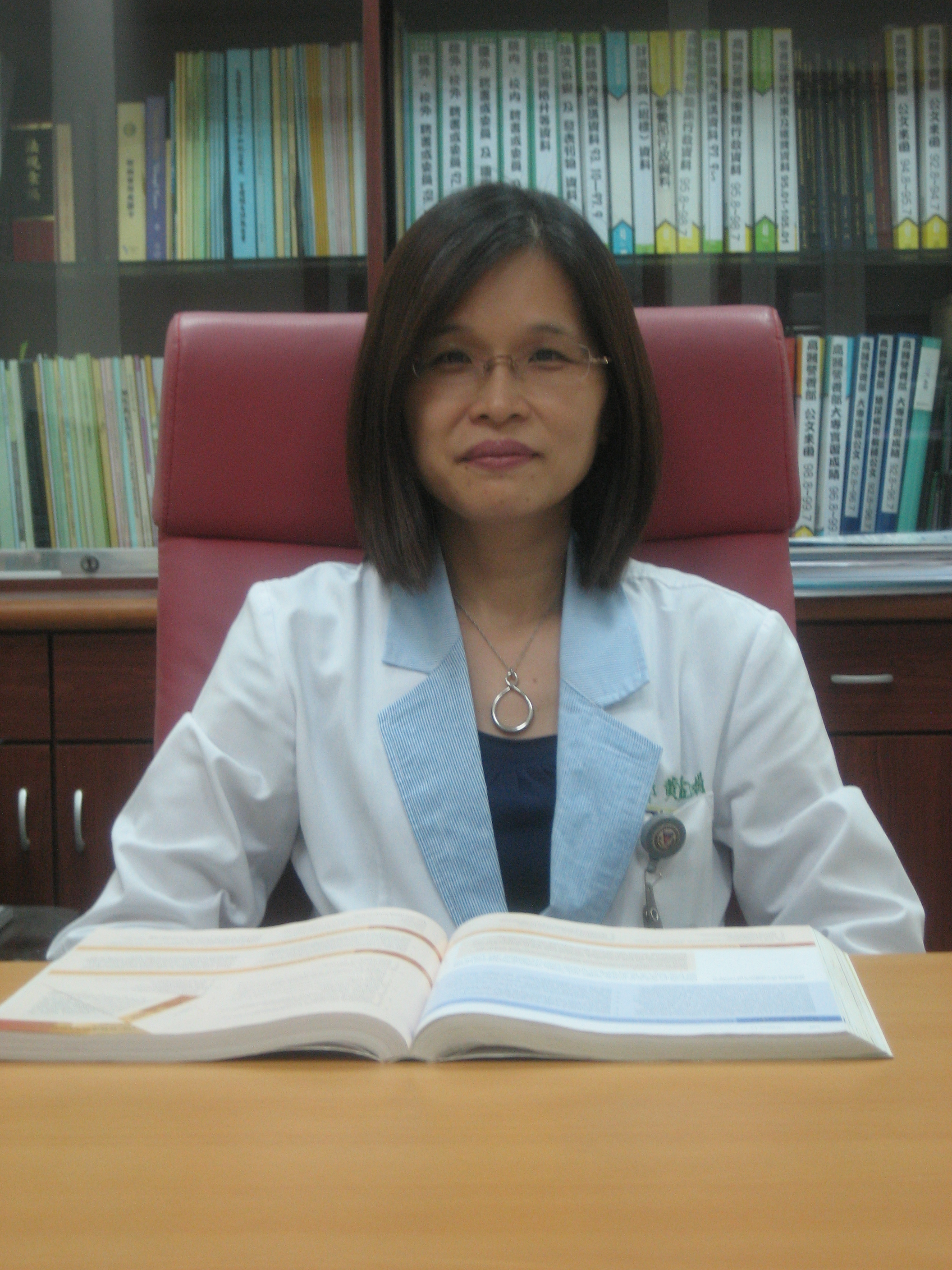 ♦個人簡介
姓名(Name):黃孟娟 Meng-Chuan(Michelle) Huang

職稱:教授
♦聯絡方式
♦

學歷
| | | | |
| --- | --- | --- | --- |
| 畢業學校 | 主修學門系所 | 學位 | 起訖年月 |
| 中國文化大學 | 食品營養系 | 學士 | 1986.9 ~ 1990.7 |
| 美國奧本大學 | 營養與食品科學 | 碩士 | 1991.8 ~ 1993.12 |
| 美國奧本大學 | 營養與食品科學 | 博士 | 1994.1 ~ 1997.12 |
♦

現職
服務機關

服務部門

職稱

起訖年月

高雄醫學大學

醫學系公衛學科

教授

2013.08 ~ 目前

高雄醫學大學附設醫院

臨床教育訓練部

副主任

2015.08 ~

高雄醫學大學附設醫院

臨床教育訓練部

醫療相關人員訓練室

主任

2012.04 ~ 目前

高雄醫學大學

醫學系

副主任

2012.08 ~ 2015.07

高雄醫學大學附設醫院

營養部

主任

2003.08 ~ 目前
♦獲獎經歷
研究

(研究獲獎) Meng-Chuan Huang The First Place for Oral Presentation of Science of Graduate Research Forum of 1993-1994. Auburn University, Auburn, Alabama, USA.


1993-1994 美國奧本大學研究所研究論文競賽第一名

(研究獲獎)

Meng-Chuan Huang

1996-1997 Dean's Award for Excellence. In Recognition of Meritorious Scholarship and Achievement during the Pursuit of the Doctoral Degree in Nutrition and Food Science. Auburn University, Auburn, Alabama, USA


1996-1997美國奧本大學傑出博士班研究生獎

(研究獲獎)

Meng-Chuan Huang

1996-1997 Graduate Dean's Award for Excellence of International Graduate Students. Auburn University, Auburn, Alabama, USA


1996-1997美國奧本大學傑出國際研究生獎

(研究獲獎)

Meng-Chuan Huang

Applied and Clinical Nutrition Research Award. 2008. Taiwan Nutrition Society., Taiwan


2008年營養學會應用 (臨床) 營養研究獎

(研究獲獎)

Meng-Chuan Huang

2008 Tsung-Ming Tu Foundation: Young Scientist Research Award. Kaohsiung Medical University, Taiwan 2008年高雄醫學大學杜聰明院長紀念基金青年優秀論文獎
(研究獲獎)

Meng-Chuan Huang

2010 Outstanding Research Award, Kaohsiung Medical University, Taiwan


2010年高雄醫學大學研究傑出教師

教學或指導研究論文

(教學獲獎)2009 Taiwan Society of Nutrition, Student Best Poster Awards/Public Health Nutrition


台灣第35屆營養年會暨學術研討會

(

指導高醫醫研所研究生公衛營養領域優秀壁報論文獎

)
PY Sun and

MC Huang

. Associations of placental fatty acids and dibenzo-p-dioxins/dibenzofurans(PCDD/Fs) and dioxin-like polychlorinated biphenyls (PCBs) in pregnant women from central Taiwan. Annual Congress of Nutrition Society of Taiwan (5.22-23, 2008, Taichung, Taiwan)


孫佩儀, 王淑麗, 黃孟娟. 胎盤脂肪酸與戴奧辛與多氯聯苯相關性之研究. (台灣第35屆




營養年會暨學術研討會, 98年5月22-23日, 台中, 台灣)

(教學獲獎)2010 Taiwan Society of Nutrition, Student Best Poster Awards/Public Health Nutrition


台灣第36屆營養年會暨學術研討會

(

指導高醫醫研所研究生臨床營養領域優秀壁報論文獎

)
HR Jhang, CH Lin, CC Hsu,

MC Huang

.

Increases in vegetable consumption may be associated with reduced risks of diabetic nephropathy. Annual Congress of Nutrition Society of Taiwan (5.21-22, 2008, Taichung, Taiwan.)
章慧如, 林佳慧, 許志成,

黃孟娟

. 增加蔬菜攝取可能降低第二型糖尿病腎病變之風險. (台灣第35屆營養年會暨學術研討會 (99年5月21-22日, 台北, 台灣)

(教學獲獎) 2010 Excellent Teaching Award, Kaohsiung Medical University, Taiwan




黃孟娟

. 高雄醫學大學99學年度醫學院教學優良教師
(教學獲獎) 2011 Taiwan Society of Nutrition, Student Best Poster Awards/Public Health Nutrition 台灣第37屆營養年會暨學術研討會

(

指導高醫醫研所研究生公衛營養領域優秀壁報論文獎

)

PS Cheng, HR Jhang, SJ Shin, SJ Huang, CC Hsu,

MC Huang

. The association between the single nucleotide polymorphisms of interleukin-6 and n-3 polyunsaturated acids-A prospective cohort study. Annual Congress of Nutrition Society of Taiwan (6.04-05, 2011, Taichung, Taiwan.)

陳寶山

,

章慧如

,

辛錫璋

,

黃尚志

,

許志成

,

黃孟娟

. Interleukin-6

基因多型性,非

n-3

多元不飽和脂肪酸,與第二型糖尿病患腎病變進展相關

-

前瞻性世代追蹤研究

. (台灣第37屆營養年會暨學術研討會 (100年6月4-5日, 台中, 台灣)

。
(教學獲獎) 2014Taiwan Society of Nutrition, Best Poster Awards/Clinical Nutrition 台灣第40屆營養年會暨學術研討會

(

指導高醫附設醫院營養師獲臨床營養領域優秀壁報論文獎

)

。

吳玉茹

,

陳梅恩

,

蔡忠榮

,

許超群

,

黃尚志

,

黃孟娟

.

熱量攝取足夠與非肥胖內科重症病人死亡相關

(

台灣第

40

屆營養年會暨學術研討會

(103

年

5

月

23-24

日

,

台北

,

台灣

)。

(教學獲獎) 2014Taiwan Society of Parenteral and Enteral Nutrition, Best Oral Presentation Awards/Clinical Nutrition 台灣靜脈暨腸道營養醫學會103年度秋季學術研討會口頭論文報告第一名

(指導高醫附設醫院營養師獲口頭論文報告

第一名

)

。

吳玉茹

、陳梅恩、許玉恒、蔡忠榮、許超群、黃尚志、

黃孟娟

.蛋白質攝取接近建議量與非肥胖內科重症病人死亡相關。

(

靜脈暨腸道營養醫學會103年度秋季學術研討會

(103

年

10

月

25-26

日

,

高雄

,

台灣

)

。

服務
(服務獲獎)高雄醫學大學附設醫院「99年度品質改善活動競賽」行政管理組金獎。
吳玉茹、蘇郁婷、吳月盈、歐麗美、施登瓊、洪綺蘭、

黃孟娟(圈長)

。以PDCA品管模式改善病膳醫囑系統及全院訂餐率。
(服務獲獎)醫策會第11屆「醫療品質獎」潛力獎。
吳玉茹、蘇郁婷、歐麗美、施登瓊、洪綺蘭、

黃孟娟(圈長)

。以PDCA品管模式改善病膳醫囑系統及全院訂餐率。
(服務獲獎)高雄醫學大學附設醫院「100年度品質改善活動競賽」行政管理組金獎


黃孟娟(圈長)

、劉劭君、陳梅恩、洪綺蘭、施登瓊、吳鈴珠、林貴香、侯宥如。改善癌症病患營養不良篩選流程及篩選成效專案。
(服務獲獎)2011 Distinguished Alumni. Kaohsiung Municipal San Min Junior High School


黃孟娟

. 高雄市立三民國民中學傑出校友
(服務獲獎)2012年第五屆健康促進醫院創計畫競賽獲獎 (台灣健康醫學會)


黃孟娟

、吳采錦、蘇怡如。「建立量身訂做食物份量衛教模式健康及份量知識滿分」。第五屆健康促進醫院創意計畫優等獎 (第六屆全國健康促進醫院研討會、101年9月10日,台北,台灣)
(服務獲獎)2013年領導高雄醫學大學附設醫院營養師團隊以「人本、專業、創新的營養醫療領航家」榮獲 2013「SNQ國家品質標章」。(2014續證通過)
(服務獲獎) 2014年高雄醫學大學附設醫院「103學年度度品質改善活動競賽」基礎組優選。
吳玉茹、朱蓉倩、孫珮儀、許玉恆、章慧如、溫心璇、李芝儀、蕭世槐、

黃孟娟

。題目: 營造健康飲食支持環境,樂活你我均衡美食。

(

服務獲獎

)

2014

年

高雄醫學大學附設醫院「

103

學年度度品質改善活動競賽」基礎組人氣海報獎。




吳玉茹、朱蓉倩、孫珮儀、許玉恆、章慧如、溫心璇、李芝儀、蕭世槐

、

黃孟娟

。題目

:

營造健康飲食支持環境,樂活你我均衡美食。
♦

專業服務
服務單位

職稱

起訖年月

台灣營養師公會全國聯合會

常務理事

2013.08 ~ 2016

高雄市營養師公會

理事

2013.06 ~ 2016.05

台灣營養學會

監事

2012.06 ~ 2015.06

台灣膳食營養學雜誌

主編

2013.08 ~

目前

台灣腎臟醫學會腎臟防治

委員

2011.01 ~

目前

高雄醫學大學呼吸治療學系

導師

2005.08 ~

目前

中華民國癌症希望學會

學術委員

2014.02 ~

目前

高雄市餐飲業衛生自主管理認證

認證稽核委員

2009.01 ~

目前
♦經歷
| | | |
| --- | --- | --- |
| 服務單位 | 職稱 | 起訖年月 |
| 高雄醫學大學醫學系公衛學科 | 副教授 | 2009.08 ~ 2013.07 |
| 高雄醫學大學呼吸治療學系 | 副教授 | 2007.08 ~ 2009.7 |
| 高雄醫學大學醫學系公衛學科 | 助理教授 | 2001.08 ~ 2007.7 |
| 中華民國癌症希望學會 | 學術委員 | 2006.05 ~ 2014.02 |
| 台灣膳食營養學雜誌 | 編審委員 | 2009.03 ~ 2013.07 |
| 台灣營養學會 | 理事 | 2006.06 ~ 2012.06 |
| 2009年世界運動會 | 餐飲諮詢委員 | 2008.08 ~ 2009.07 |
| 台灣國家衛生研究院環職組 | 博士後 | 2001.02 ~ 2001.07 |
| 大仁技術學院食品衛生科 | 助理教授 | 1999.08 ~ 2001.01 |
| 美國康乃爾大學營養研究所 | 博士後 | 1997.12 ~ 1999.10 |
| 中國文化大學食品營養系 | 助教 | 1990.08 ~ 1991.07 |
♦

研究興趣
臨床營養(營養師臨床研究): 以分析臨床資料以及臨床營養介入研究為主

營養與基因流行病學:飲食、脂肪酸及探討與發炎或細胞激素相關基因交互作用與糖尿病、慢性腎臟疾病疾病之相關性研究

營養與環境對嬰幼兒發展之流行病學研究:探討必需脂肪酸與環境汙染物對嬰幼兒神經發展




相關性之研究
♦

研究計畫
計畫名稱

補助單位

擔任工作

起訖年月

Adiponectin/adiponectin
接受體基因多型性/基因表現與飲食肪酸組成對糖尿病以及糖尿病腎病變之影響

國科會

主持人

2009.08.01 - 2012.07.31

飲食型態、飲食相關生物標記與糖尿病微血管病變進展之世代追蹤研究

國科會

主持人

2013.08.01 - 2016.07.31
♦

研究著作
SCI期刊原始論文

Van Pelt CK,

Huang M C

, Tschanz C & Brenna JT (1999) An Octaene fatty acid, 4,7,10, 13, 16, 19, 22, 25-octacosaoctaenoic acid (28:8n-3), found in marine oil. J Lipid Res 40: 1501-1505 (SCI)

Huang MC

, Muddana S, Norowitz EN, McCormick CC, Infante JP & Brenna JT. High Precision isotope ratio mass spectrometry and stable isotope precursors for tracers studies in cell culture. Anal Biochem 2000: 287(1):80-6. (SCI)
Su H-M,

Huang MC

, Nathanielsz PW & Brenna JT. Fetal baboons convert 18:3n-3 to 22:6n-3 in vivo, A stable isotope tracer study. J Lipid Res 2001 42(4): 581-586. (SCI)

Huang MC

, Chao A, Kiwan R, Tschanz C, Perlta JM. & Diersen-Schade DA, Cha S and Brenna JT. Negligible changes in piglet serum clinical indicators or organ weights due to dietary single-cell long-chain polyunsaturated oils. Food Chem Toxicol 2002: 40: 453-46 (SCI)
Wijendran V,

Huang MC

, Diau GY, Attenhauser B, Nathanielsz PW & Brenna JT. Efficacy of dietary arachidonic acid provided as either triglyceride or phospholipid for brain arachidonic acid accretion in baboon neonates. Pediatr Res 2002:51 (3): 265-72. (SCI)
Sarkadi-Nagyl E,

Huang MC

, Diau G.-Y, Kirwan R, Chao AC, Tschanz C., & Brenna JT. Long Chain Polyunsaturate Supplementation Does Not Induce Excess Lipid Peroxidation of Piglet Tissues. Eur J Nutr 2003: 42(5):293-6. (SCI)
Lee BJ,

Huang MC

, Chung LJ, Cheng CH, Lin KL, Su KH, Huang YC. Folic acid and vitamin B12 are more effective than vitamin B6 in lowering fasting plasma homocysteine concentration in patients with coronary artery disease. Eur J Clin Nutr 2004: 58(3):481-7. (SCI)
Hung HC,

Huang MC

, Lee JM, Wu DC, & Wu MT. Association between Diet and Esophageal Cancer Risk in Taiwan.J Gastroenterol Hepatol 2004: 19(6):632-7.
Lee KT, Chang WT,

Huang MC

, Chiu HC. Influence of Surgeon Volume on Clinical and Economic Outcomes of Laparoscopic Cholecystectomy.Dig Surg 2004: 21(5-6):406-412.
KO YC,

Huang MC

, Wang TN, Chang SJ, Tsai LY, Tu, HP. Prevalences and Risk Factors Associated with Dyslipidemia in Children and Adolescent among Ethnic Groups in Taiwan. Public Health, 2005 119(6):489-97. (SCI)
Lee, CH, Lee JM, Wu DC, Hsu HK, Kao EL, Huang HL, Wang TN,

Huang MC

, Wu MT Independent and combined effects of alcohol intake, tobacco smoking and betel quid chewing on the risk of esophageal cancer in Taiwan. Int J Cancer. 2005: 113(3):475-82.
Wang T-N,

Huang M-C

, Chang W-T, Ko A M-S, Tsai E-M, Liu C-S, Lee C-H, Ko Y-C. The G-2548A Polymorphism of the Leptin Gene is Correlated with Extreme Obesity in Taiwanese Aborigines. Obes Res, 2006: 14(2):183-7. (SCI)
Cheng CH,

Huang MC

, Liu SC, Lin KL, Huang YC. Traditional cardiovascular risk factors but not homocysteine are associated with obstructive sleep apnea. Nutr Res, 2006: 26: 59-64. (SCI)

Huang MC

, Wang TN, Liu YL, Pa TH, Tu HP, Huang YC, Chang WT, Ko YC. Effect of SstI polymorphism of the apolipoprotein CIII gene and environmental factors on risks of hypertriglyceridemia in Taiwan aborigines. Circ J 2006 : 70(8) :1030-36 (SCI)

Huang MC

, Wang SL, Hung SC, Wang YS, Chao HR, Pan WH. Associations of diet with body burden of dibenzo-p-dioxins and dibenzofurans (PCDD/Fs) and dioxin-like polychlorinated biphenyls (PCBs) - Observations from pregnant women from central Taiwan. Food Addit Contam 2007: 24(7): 784–791 (SCI)
Wang TN,

Huang MC

, Lin HL, Hsiang CH, AMJ Ko, Chang WT, Ko YC. associated with obesity and related phenotypes in aboriginal community in Taiwan. Int J Obes .2007 : 1-7 (SCI)

Huang MC*

(

通訊作者

)

,

, Brenna JT, Chao AC, Tschanz C, Hung HC, Diersen-Schade DA. Neonatal Piglet Tissue Compositional Dose Response to Dietary Docosahexaenoic And Arachidonic Acids, J Nutr 2007: 137(9):2049-55 (SCI)

Lee CH, Lee2 JM, Wu DC, Goan YG, Chou SH, Wu IC, Kao ML, Chan TH,

Huang MC

, Chen PS, Lee CY, Huang CT, Huang HL, Hu CY, Hung YH, Wu MT. Carcinogenetic impact of ADH1B and ALDH2 genes on squamous cell carcinoma risk of the esophagus with regard to the consumption of alcohol, tobacco and betel quid. Int J Cancer. 2007: 122(6):1347-1356

Huang MC

, Chen ME, Hung HC, Chen HC, Wu YY, Chiang HC, Hwang SJ, Inadequate energy and excess protein intakes may be associated with worsening renal function in chronic kidney disease.

J Ren Nutr 2

008:18 (2) 187-194

Huang MC

, Wang TN, Wang HS, Ko YC, Chiang HC*.

The -1131T

>

C polymorphism in the Apolipoprotein A5 gene is associated with hypertriglyceridemia in Taiwan Aborigines.

Kaohsiung J Med Sci.

2008: 24 (4) 171-179

Chang WT, Hung HC, Hsieh MY, Yu FJ, Kera CG, Lee KT, Chiang HC and

Huang MC*

(

通訊作者

)

,

. Albumin and Prealbumin May Predict Retinol Status in Patients with Liver Cirrhosis

Hepato- Gastroentrology 2008: 55: 1683-1688

Lin PT,

Huang MC

, Lee BJ, Cheng CH, Tsai TP, Huang YC. High plasma homocysteine is associated with the risk of coronary artery disease independent of methylenetetra- hydrofolate reductase 677C-->T genotypes. Asia Pac J Clin Nutr. 2008;17(2):330-8
Chang WT, Lee KT,

Huang MC

, Chen JS, Chiang HC, Kuo KK, Chuang SC, Wang SR, Ker CG

*

. The impact of body mass index on laparoscopic cholecystectomy in Taiwan: an oriental experience. J Hepatobiliary Pancreat Surg. 2009;16(5):648-54.
Chang WT, LinHL, Chang KL , Ker CG,

Huang MC

,Chen JS , Kuo KK , Chen YL , Lee KT

*

. Progesterone increases Epirubicin's apoptotic effects in HepG2 cells by S phase cell cycle arrest. Hepato-Gastroenterology 2010;57:1-6
Chang WT, Lee KT, Yu FJ , Hsieh MY ,

Huang MC

, Chen JS, Kuo KK, Chuang SC, WangSR, Ker CG*, Laparoscopic cholecystectomy in aged patients, Hepato-Gastroenterology 2009;

56(93):950-5.

Lee CH, Wu DC, Wu IC, Goan YG, Lee JM, Chou SH, Chan TF, Huang HL, Hung YH,
Huang MC , Lai TC, Wang TN, Lan CC, Tsai S, Lin WY, Wu MT. Genetic modulation of ADH1B and ALDH2 polymorphisms with regard to alcohol and tobacco consumption for younger aged esophageal squamous cell carcinoma diagnosis. Int J Cancer. 2009; 125(5):1134-42
Chiu YW, Chuang HY,

Huang MC

, Wu MT, Liu HW, Huang CT. Comparison of plasma antioxidant levels and related metabolic parameters between smokers and non-smokers. Kaohsiung J Med Sci. 2009 ;25(8):423-30

Huang MC

, Hsu CC, Wang HS, Shin SJ. A prospective randomized controlled trial to evaluate effectiveness of registered dietitian led diabetes management on glycemic and diet control in a primary care setting in Taiwan. Diabetes Care 2010, 33(2):233-9
Tu HP, Ko AM, Wang SJ, Lee CH, Lea RA, Chiang SL, Chiang HC, Wang TN,

Huang MC

, Ou TT, Lin GT, Ko YC. Monoamine oxidase A gene polymorphisms and enzyme activity associated with risk of gout in Taiwan aborigines. Hum Genet. 2010; 127(2):223-9. (SCI)
CC Hsu, SJ Hwang, TY Tai, T Chen,

MC Huang

, SJ Shin, CP Wen, YT Shih, HJ, Yang, CT Chang, CJ Chang, CH Loh, MT Fuh, YS Li, and HY Chang. Cigarette Smoking and Proteinuria in Taiwanese Men with Type 2 Diabetes Mellitus. Diabetic Med. 2010; 27(3):295-302

Huang MC

, Wang TN, Lee KT, Wu YJ, Tu HP, Liu CS, Chiang HC, Ko YC. Adiponectin gene SNP276 variants and central obesity confer risks for hyperglycemia in indigenous Taiwanese. Kaohsiung J Med Sci. 2010; 26(5):227-36
Chen GW, Ding WH, Ku HY, Chao HR, Chen HY,

Huang MC

, Wang SL. Alkylphenols in human milk and their relations to dietary habits in central Taiwan. Food Chem Toxicol. 2010;48(7):1939-44. (SCI)
Jong-Rung Tsai, Wen-Tsan Chang, Chau-Chyun Sheu, Yu-Ju Wu, Yu-Heng Sheu , Po-Len, Liu, Chen-Guo Ker,

Meng-Chuan Huang* (

通訊作者

)

, Inadequate energy delivery during early critical illness correlates with increased risk of mortality in patients who survive at least seven days: A retrospective study. Clin Nutr 2011;30(2):209-14

Meng-Chuan Huang

,

, Wen-Tsan Chang

, Hsin-Chia Hung, How-Ran Chao

, Shu-Li Wang.

Placental docosahexaenoic and arachidonic acids correlate weakly with placental polychlorinated dibenzofurans (PCDF) and are uncorrelated with polychlorinated dibenzo-p-dioxins (PCDD) or polychlorinated biphenyls (PCB) at delivery: A pilot study. Food Chem Toxicol. 2011;49(8):1711-17. (SCI)
Chih-Cheng Hsu, Hsing-Yi Chang,

Meng-Chuan Huang

, Shang-Jyh Hwang, Yi-Ching Yang, Tong-Yuan Tai, Hung-Jen Yang, Chwen-Tzuei Chang, Chih-Jen Chang , Yu-Sheng Li, Shyi-Jang Shin, Ken N Kuo. Association Between Insulin Resistance and Development of Microalbuminuria in Type 2 Diabetes A prospective cohort study. Diabetes Care, 2011, 34(4) 982-987.
Fung-Jung Yu,

Meng-Chuan Huang

, Wen-Tsan Chang, Hsin-Fang Chung, Chin-Yi Wu, Shyi-Jang Shin, Chih-Cheng Hsu. Increased ferritin concentrations correlate with insulin resistance in female Type 2 diabetic patients. 2012;61(1):32-40
Hsu CC, Chang HY,

Huang MC

, Hwang SJ, Yang YC, Lee YS, Shin SJ, Tai TY. HbA(1c) variability is associated with microalbuminuria development in type 2 diabetes: a 7-year prospective cohort study. Diabetologia. 2012; 55(12):3163-72.
Lin WT, Huang HL,

Huang MC

, Chan TF, Ciou SY, Lee CY, Chiu YW, Duh TH, Lin PL, Wang TN, Liu TY, Lee CH. Effects on uric acid, body mass index and blood pressure in adolescents of consuming beverages sweetened with high-fructose corn syrup.

Int J Obes

2013: 37(4):532-9

Tsu-Nai Wang, Wen-Tsan Chang, Yu-Wen Chiu, Chun-Ying Lee, Kun-Der Lin, Yu Yao Cheng, Yi-Ju Su, Hsin-Fang Chung,

Meng-Chuan Huang

* (

通訊作者

). Relationships between changes of leptin and insulin resistance in obese subjects following weight loss. Kaohsiung J Med Sci.2013, 29: 436-443
Ru-Shing Tang,

Meng-Chuan Huang,

Shun-Te Huang. Relationship between dental caries status and anemia in children with severe early childhood caries. Kaohsiung J Med Sci.2013, 29: 330-336. (SCI)

Hsu YH,

Huang MC

, Chang HY,Shin SJ, Wahlqvist ML, Chang YL, Hsu KC, Hsu CC*.

Association between serum ferritin and microalbuminuria in Type 2 diabetes in Taiwan. Diabetic Med. 2013, 30(11):1367-73.

Chih-Cheng Hsu, Huei-Ru Jhang, Wen-Tsan Chang, Chia-Huei Lin, Shyi-Jang Shin, Shang-Jyh Hwang,

Meng-Chuan Huang

*

(

通訊作者

)

Associations between dietary patterns and kidney function indicators in type 2 diabetes. Clin Nutr 2014, 33 (1): 98-105
Chan TF, Lin WT, Chen YL, Huang HL, Yang WZ, Lee CY, Chen MH, Wang TN,

Huang MC

, Chiu YW, Huang CC, Tsai S, Lin CL, Lee CH. Elevated serum triglyceride and retinol-binding protein 4 levels associated with fructose-sweetened beverages in adolescents. PLoS One. 2013 (accepted).
Chung HF, Long KZ, Hsu CC, Mamun AA, Jhang HR, Shin SJ, Hwang SJ,

Huang MC*

(

通訊作者

)

. Association of n-3 polyunsaturated fatty acids and inflammatory indicators with renal function decline in type 2 diabetes. Clin Nutr (In Press)
Chung HF, Long KZ, Hsu CC, Mamun AA, Chiu YF, Tu HP, Chen PS, Jhang HR, Hwang SJ,

Huang MC*(

通訊作者

)

.

Adiponectin gene (ADIPOQ) polymorphisms correlate with the progression of nephropathy in Taiwanese male patients with type 2 diabetes. Diabetes Res Clin Pract (In Press)

中文期刊原始論文

蔡

靜芳、金惠民、洪信嘉、蔡碧仁、李蕙蓉、陳瑩霖、江宏哲、

黃孟娟

* (

通訊作者

)

。

台灣地區營養師使用網路資訊之調查。台灣營養學會雜誌, 2007, 32(1): 9-19.
劉劭君、蘇怡如、吳采錦、洪信嘉、

黃孟娟

*(

通訊作者

)

。

第二型糖尿病糖化血色素改善狀況與臨床特性之相關性。台灣膳食營養學雜誌 Taiwan Dietetic Journal. 2009, 1 (1), 33-40.)
吳玉茹、郭美娟、黏秀美、黃尚志、陳鴻鈞、

黃孟娟

*(

通訊作者

)

。

利用多頻率生物電阻法測量血液透析病人體組成與營養指標之相關性. 台灣膳食營養學雜誌 Taiwan Dietetic Journal. 2010,2 (1), 19-26.
蘇郁婷、吳玉茹、吳月盈、施登瓊、洪綺蘭、

黃孟娟

*(

通訊作者

)

。

以PDCA品管模式改善病膳資訊管理系統及全院訂餐率。台灣膳食營養學雜誌 Taiwan Journal of Dietetics. 2010, 2(1), 79-89.
蘇郁婷、孫珮儀、楊貞華、吳鈴珠、黃孟娟*(通訊作者)

。

頭頸癌病人接受營養照護會診之成效評估. 台灣膳食營養學雜誌. Taiwan Dietetic Journal. 2011, 3 (1), 25-36
陳梅恩、鍾欣芳、吳月盈、李春璟、林宗憲、

黃孟娟

*(

通訊作者

)

。

慢性心臟衰竭病患微量營養素攝取狀態普遍不足. 台灣膳食營養學雜誌. Taiwan Dietetic Journal. 2012, 4 (1), 1-12
劉劭君、陳梅恩、施登瓊、林盈慧、潘純媚、

黃孟娟

*(通訊作者)。

營養不良篩檢機制與成效評估. 台灣膳食營養學雜誌. Taiwan Dietetic Journal. 2012, 4 (2), 39-47
♦

專書
黃孟娟、朱瑩悅、簡怡雯、劉影梅、黃惠瑛、李宜芳、李淑玲、劉燦宏、李威傑、王偉、楊淑惠、李明真、翁玉青著(2011)。體重控制學,華格納出版社。

張正芬、林佩珊、吳欲仁、溫慧萍、蔡淑芳、賴明宏、蔡文玲、侯征宏、黃孟娟、賴喜賢等合著(2005)。美容營養學,華格納出版社。

金惠民、彭巧珍、劉凱莉、戰林茜、黃淑俐、陳德居、李妙鶯、黃孟娟、王清衡、劉國瑜等合著(2005)。臨床營養學,華格納出版社。

Huang MC

, Chao AC, Tschanz C & Brenna JT. (2003) Evaluation of safety and dose response of tissue docosahexaenoate & arachidonate in piglets fed formula supplemented with single cell oil In: 5th WC on Essential Fatty Acids & Eicosanoids, Editors: Yung-Sheng Huang, Shing-Jong Lin, Po-Chao Huang, AOCS Press, Champaign, IL, USA, P98-104

Huang MC,

& Brenna JT. (2001) On the relative efficacy of 18:3 and preformed 22:6 as substrates for tissue 22:6 during perinatal development. In: Fatty acid Physiological and Behavioral Functions. Edited by Mostofsky D.I., Yehuda S & Salem N. Humana Press, Totowa, NJ
Craig-schmidt, MC &

Huang MC.

(1998) Interaction of n-6 and n-3 fatty acids: Implications for supplementation of infant formula with long chain polyunsaturated fatty acids. In: Lipids in infant nutrition (eds. Huang, Y.S. and Sinclair, A. J.) AOCS Press, Champaign, IL, p63-84.